Southbury Connecticut 06488
Southbury CT Lodging Inns Business & History

The town of Southbury, Connecticut was one of several towns formed out of a parcel of land purchased from the Paugussett Indians in 1659. Southbury was originally part of Woodbury, as settled in 1673. A new meetinghouse, for the Southbury Ecclesiastical Society, was built in 1733, and in 1787 the town of Southbury was incorporated. Although incorporated as part of Litchfield County, Southbury has been in New Haven county for most of its existence.
In the 1800's, water power became essential to the growth of Southbury industries. These included mills, tanneries and distilleries. This water power came primarily from the Pomperaug and Housatonic rivers. As the industrial revolution progressed, many of these businesses left for Waterbury.
Today, Southbury is home to a variety of retirement facilities and senior living centers. Heritage Village, New England's largest retirement community is located here. Other Senior Living facilities include Kensington Green, Lutheran Home of Southbury, River Glen Health Care Center, Pomperaug Woods, and Watermark at East Hill.
Ask us about Southbury, CT or share your comments. To feature your CT business, contact us.
Visiting Southbury, CT
Southbury is easy to get to – located less than 80 miles from NYC and 40 miles from Hartford. The town offers exceptional local lodging at the Evergreen Inn and Southbury is the only community in the entire country with the name "Southbury". Southbury is a popular destination for hikers. The Audubon Center at Bent of the River is a 700-acre preserve in Southbury, Connecticut. Located off South Britain Road, the hiking trails are open year-round. The Southbury town seal reads Unica Unaque, meaning "The One and Only." Visit Southbury, CT we think you will agree. There a number of historic sites and interesting places to visiting in Southbury.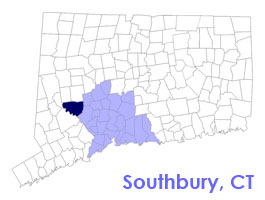 Incorporated: 1787
County: New Haven
Southbury, CT Population:
2010: 19,677
GPS Coordinates:
Latitude: 41.2825
Longitude: -73.1403
Southbury CT Local Information
Southbury Police Dispatch: 203-264-5912
Southbury Fire Department: 203-262-0615
Ambulance Service: 203-262-8082
Town Hall Telephone: 203-262-0657
Southbury, CT Living Resources

Southbury, CT Airports
Southbury, CT Art Galleries
Southbury, CT Autos
Southbury, CT Camping
Southbury, CT Golfing
Southbury, CT Microbreweries
Southbury, CT Shopping
Southbury, CT Theaters
Southbury, CT Antiques
Southbury, CT Attorneys
Southbury, CT Classifieds
Southbury, CT Hiking
Southbury, CT Inns
Southbury, CT Museums
Southbury, CT Skiing
Southbury, CT Weather
Southbury, CT Apple Orchards
Southbury, CT Attractions
Southbury, CT Beaches
Southbury, CT Dining
Southbury, CT Hotels
Southbury, CT Radio Stations
Southbury, CT State Parks
inns | hotels | resorts | rentals | attractions | dining | real estate
Vacation Rentals | Pet Friendly
Attractions | Maps | Products
The specified file on Include Me shortcode does not exist.